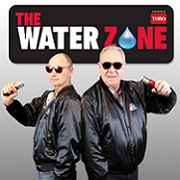 This podcast of The Water Zone features interviews with special guests attending the WaterSmart Innovations Conference in Las Vegas. They include:
Veronica Blette, chief, EPA WaterSense Program, discusses current EPA WaterSense activities and planned projects re: soil moisture sensors.
Brent Mecham of the Irrigation Association discusses the upcoming IA Show in November and irrigation technologies.
Sheri Trapp, communications specialist for Arizona Municipal Water Users Association, discusses their representation of various local water agencies and water users.
Bill Ward, executive director, PumpPod USA, discusses water conservation equipment for the fire-fighting industry utilized in their training activities.
Tom Bohner, president, SolarSafe Pool Covers, discusses new technologies in poor covers that reduces water evaporation in pools.
(Podcast recorded on October 3, 2019)